In my 25 years of practice, I have seen thousands of women and men struggling with their weight, energy levels, mood, brain fog, sleep, hormones, digestion and, if that's not bad enough, being diagnosed at epidemic rates with diabetes, digestive dissorders, autoimmune conditions, gluten sensitivity and depression.  The list goes on.
I also have traveled that road. And, so have many I love.  I know the devastating impact that these conditions have on people's lives.
My conventional training didn't have the answers for the problems I was seeing. So I became obsessed with learning about what would work – getting advanced certifications, devouring the newest research, attending medical seminars, learning about human physiology, metabolic pathways, genetics, and the immune system.
So that I can help you.  And, yes, because the geeky science side of me loves everything about nutrition and health!
I began to practice in a different way.  Looking for the root-cause of the problem before I proposed the answer to the problem.  This is called Integrative Nutrition – the integration of natural therapies (diet, supplements, herbs, natural therapies) with an individual's current diet, health history, symptoms, emotional, mental, and physical state, exercise, stress and sleep levels, environment, and medications, to develop a targeted and customized treatment plan.
And it worked – my clients got better.  Now I want to do the same for you.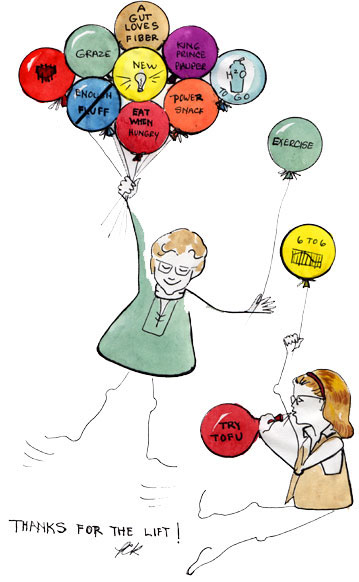 Image courtesy of one of my clients
Appointments Available in Person, by Phone or Via Skype
Covered by Most Health Insurances
Testimonials from my Clients
Client
I am not surprised that you have a devoted following of patients, because you present the "straight word" on diet with so much wit and common sense that you make it sound virtually irresistible."
"For the first time since I was told to 'lower my cholesterol and take off weight' I have some understanding of how to go about it–now I just have to put it into practice!"
"Thank you for my new strength! I haven't gained either. It's lovely to be a human being again–and to eat food that gives me pleasure…everything is better–thanks to you.
Client
In her capacity as an independent consulting clinical and sports nutritionist, Lorraine has consistently demonstrated unique and superior skills, to the considerable benefit of over two thousand of my patients, both in treatment of existing problems such as dyslipidemia, hypertension, diabetes, eating disorders, and obesity, and also in the prevention of nutritionally-related disorders…I have found her to be consistently one of the most valuable and effective consulting resources for my patients of any professionals to whom I refer, including physicians and other specialists.
Physician
Lorraine is an outstanding individual and dietitian. She is extremely intelligent, articulate and has been highly respected in our community as a leader in the field of nutrition.
Not only does she have the knowledge related to nutrition counseling, but she also has a fine-tuned sense of what works in the real world and what motivates individuals to make dietary changes.
Nutrition Services Director at a Major Boston Hospital
I am so very grateful for Lorraine's help, support and guidance in becoming the healthiest I've ever been. I came to Lorraine weighing 200 pounds, taking medication on a daily basis prescribed to me for many symptoms I had, including Lorazepam for anxiety, Celexa for depression, Ambien to sleep, Prilosec for stomach issues…and so on. I didn't know or understand how and what I was eating was actually killing me and taking meds was only masking the problems. I wasn't happy being in my own skin and just felt blah all the time. Basically I was a walking zombie. Working with Lorraine was the best thing I ever could have done for myself. I am alive again and I feel good! I'm at a healthy weight, I am off all prescription and over the counter meds (except the occasional Tylenol when needed). Through this journey I have come to know and understand the choices I, make when it comes to food and/or drink, and its effects they'll have on my body. This hugely impacts me making good choices and staying healthy, it also plays a role when I feel like having a bit of fun here and there. Thank you for everything Lorraine, you're awesome!