In my 25 years of practice, I have seen thousands of women and men struggling with their weight, energy levels, mood, brain fog, sleep, hormones, digestion and, if that's not bad enough, being diagnosed at epidemic rates with diabetes, digestive disorders, autoimmune conditions, gluten sensitivity and depression.  The list goes on.
I also have traveled that road. And, so have many I love.  I know the devastating impact that these conditions have on people's lives.
My conventional training didn't have the answers for the problems I was seeing. So I became obsessed with learning about what would work – getting advanced certifications, devouring the newest research, attending medical seminars, learning about human physiology, metabolic pathways, genetics, and the immune system.
So that I can help you.  And, yes, because the geeky science side of me loves everything about nutrition and health!
I began to practice in a different way.  Looking for the root-cause of the problem before I proposed the answer to the problem.  This is called Integrative Nutrition – the integration of natural therapies (diet, supplements, herbs, natural therapies) with an individual's current diet, health history, symptoms, emotional, mental, and physical state, exercise, stress and sleep levels, environment, and medications, to develop a targeted and customized treatment plan.
And it worked – my clients got better.  Now I want to do the same for you.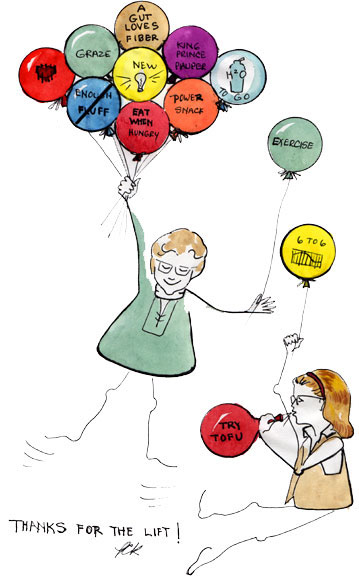 Image courtesy of one of my clients
Client, J.B., 22 yo male
Lorraine changed my life. For the past 10 years I had been suffering with increasing gut pain. Doctor's at top Boston hospitals were not able to give me answers.
I was in large amounts of pain and only eating meat and peas for a month. I felt hopeless, but Lorraine provided personalized support that ultimately helped me get relief.
Lorraine's wide knowledge of nutrition, the GI tract, and treatment methods gave me avenues for ultimately finding and treating the root cause of my stomach distress.
Lorraine demonstrates an expertise, devotion and level of care that I had not experienced in my long search for answers.
Client
I've worked with Lorraine over the years for weight loss, cholesterol issues & several other health problems. She has successfully guided me with proper nutrition guidance in a professional environment. She is excellent in her work, knowledge & compassion. The best.
Client
Thank you so far for your rapt attention and dedication to my pervasive health problem. I am so happy to have someone take me seriously after all these miserable years of digestive (and systemic) whoas.
Thank you for all of your absolute through care. I feel like I am healing both in body and in mind. I now feel like I may be able to reach my goals for myself and live the kind of life I want to live. Gratefully yours,
Client
I went to Lorraine with diagnosis of many many food allergies, bloating, and general digestive issues which doctors told me to resolve with a restricted diet, but that didn't even work! She managed to find what the doctors couldn't diagnose – bacteria overgrowth and parasites! These are very hard to test for, but she knew which labs to use. I then went on an herbal detox protocol. The results were about 80% improvement over the symptoms I had for at least a decade in a time span of about 3 months. Amazing! It literally changed my life and I can now eat many of the foods that once really bothered me. I really trust Lorraine to think through the problem and try to solve it with integrity. She is always attending courses and trainings to get the latest research and approach. She helped me put together many pieces of the puzzle and come up with a comprehensive solution to my gut issues and related nutrient deficiencies. I'm seeing her now to help optimize my nutrition during pregnancy. Thank you, Lorraine!
Client
I am not surprised that you have a devoted following of patients, because you present the "straight word" on diet with so much wit and common sense that you make it sound virtually irresistible."
"For the first time since I was told to 'lower my cholesterol and take off weight' I have some understanding of how to go about it–now I just have to put it into practice!"
"Thank you for my new strength! I haven't gained either. It's lovely to be a human being again–and to eat food that gives me pleasure…everything is better–thanks to you.
Client
I love Lorraine! She has a low-key approach, she stays ahead of the ever-changing topics in the field of nutrition and wellness, and her words of wisdom resonate in my head on a daily basis. I recommend her wholeheartedly to friends and to you!
Client
Lorraine Love is an analytical and smart practitioner, who is very willing to put in the time I needed to peel back the layers of my SIBO. I am 49 years old and I have been struggling with the condition and the underlaying issues that have help to develop SIBO, for most of my adult life. Until I met Lorraine. She has given me the healing and higher quality level of life I needed to feel like I can meet life goals. I would highly recommend her to someone who has SIBO or food sensitivities. Thank you Lorraine for giving me my life back.
Client
I would highly recommend her to someone who has SIBO or food sensitivities.
Client
I'm seeing her now to help optimize my nutrition during pregnancy.
Physician
Lorraine is an outstanding individual and dietitian. She is extremely intelligent, articulate and has been highly respected in our community as a leader in the field of nutrition.
Not only does she have the knowledge related to nutrition counseling, but she also has a fine-tuned sense of what works in the real world and what motivates individuals to make dietary changes.
Nutrition Services Director at a Major Boston Hospital
I am so very grateful for Lorraine's help, support and guidance in becoming the healthiest I've ever been. I came to Lorraine weighing 200 pounds, taking medication on a daily basis prescribed to me for many symptoms I had, including Lorazepam for anxiety, Celexa for depression, Ambien to sleep, Prilosec for stomach issues…and so on. I didn't know or understand how and what I was eating was actually killing me and taking meds was only masking the problems. I wasn't happy being in my own skin and just felt blah all the time. Basically I was a walking zombie. Working with Lorraine was the best thing I ever could have done for myself. I am alive again and I feel good! I'm at a healthy weight, I am off all prescription and over the counter meds (except the occasional Tylenol when needed). Through this journey I have come to know and understand the choices I, make when it comes to food and/or drink, and its effects they'll have on my body. This hugely impacts me making good choices and staying healthy, it also plays a role when I feel like having a bit of fun here and there. Thank you for everything Lorraine, you're awesome!
Appointments Available in Person, by Phone or Via Skype
Covered by Most Health Insurances