The root cause of many chronic health issues, including excess weight, can be traced to inflammation somewhere in the body.
The culprit is often a food sensitivity (or multiple sensitivities)
When we eat a food that our body is sensitive to,
our body produces an immune response to defend itself.
The result is inflammation

Consider this:
Rheumatoid Arthritis is inflammation of the joints

Irritable Bowel Syndrome is inflammation of the stomach and intestine

Migraines are inflammation of the blood vessels in the head

Multiple Sclerosis is scar tissue damage from inflammation of the myelin sheaths surrounding the nerves

Fibromyalgia is inflammation of the tendons and joints
How do you find out for sure what foods or food additives are causing inflammation in your body?
The answer you've been waiting for is called…
The Cyrex Multiple Food Immune Reactivity Screen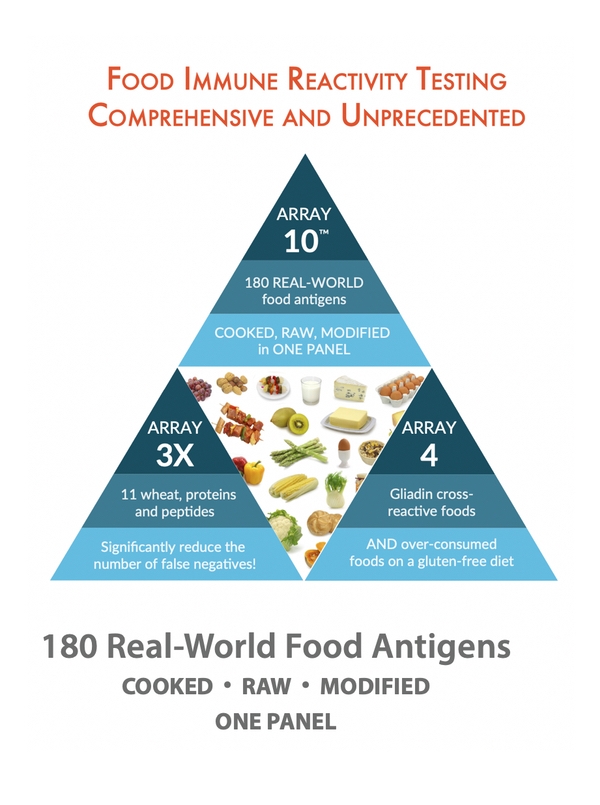 This is the most accurate and comprehensive test to tell you which foods and food chemicals might be causing your symptoms. You could have your results in 14 days or less and experience a 50-70% reduction in your symptoms in less than a month.
If you're wondering whether food sensitivities are making you sick, review the list below. Every condition listed may have food sensitivities as a root cause. Without testing, it is difficult to determine the foods you are reacting to because food sensitivities manifest in all areas of the body and can take up to 72 hours to cause symptoms! 
Gastrointestinal:
Irritable Bowel Syndrome (IBS)
Diarrhea
GERD (Heartburn)
Crohn's Disease
Colitis
Celiac Disease

Endocrine:
Obesity
Hashimoto's (autoimmune thyroid)
Gynecological:
Polycystic Ovary Syndrome (PCOS)
Pulmonary:
Asthma
Chronic Sinusitis
Chronic sinus Headaches

Musculoskeletal:
Fibromyalgia
Chronic Fatigue Syndrome
Rheumatoid Arthritis
Dermatological:
Atopic Dermatitis
Psoriasis
Eczema
Acne

Neurological:
Migraine
Recurrent non-migraine headaches
ADD/ADHD
Autism Spectrum Disorders
Epilepsy
Depression
Insomnia
Multiple Sclerosis
Restless Leg Syndrome

Appointments Available in Person, by Phone or Via Skype
Covered by Most Health Insurances